Solar-based Cooling
Product Announcement from Thermax Inc.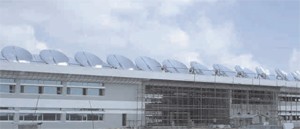 As a B2B solution provider in the core areas of energy and environment, Thermax is committed to the development of sustainable alternatives for the industry to manage resources productively and without waste.
The radiative energy from the sun that keeps our planet warm far exceeds the current primary energy supply used by mankind for its comfort, leisure and economic activities. It also vastly exceeds other energy sources at ground level such as geothermic, wind, or tidal energy; nuclear power; and fossil fuel incineration.
Indeed, the prospects of climate change and, eventually, fossil fuel depletion, trigger a growing interest in renewable energies in general, solar energy in particular.
Over 40% of the world's energy consumption is used for building operations (IEA 2007):
Heating (hot water, process steam, space heating)
Cooling (air conditioning, cold storage)
Electricity
Lighting (artificial, ambient)
The biggest electrical consumers are lighting & air conditioning - 50% of electrical energy.
Solar thermal cooling can reduce conventional electric air conditioning or cooling loads. The system uses parabolic concentrators integrated with thermally driven double-effect absorption chillers.
Thermax's core strengths in cooling can offer a single point optimized solution to meet total requirements with turnkey execution for various applications.
Product Features
High efficiency fixed focus collectors
PLC based daily tracking system
Auto focus, defocus and refocus controls
Space saving design
Modular design for easy and safe operation & maintenance
Concentration ratio >70
Contact: dinesh@thermax-usa.com Mr. Dinesh Badgandi, National Sales Manager
Download attachments:
---