Thermik PTC thermistors detect over-temperature
Featured Product from Thermik Corporation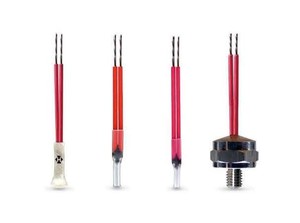 PTC Thermistors are optimally designed for direct installation in windings of electric motors and transformers, to sense and monitor temperature. Thermik's unique experience manufacturing PTC ceramics ensures unsurpassed quality and engineering. All Thermistor products are customizable with unlimited sensor-heads in series, and special coding, insulation, connectors, housings, and wire lengths.
The PTC's are usually installed parallel to the coil so that the mechanical strain is minimized. The Mylar-Nomex shrink cap is well suited due to its mechanical stability (no cold flow, as opposed to Teflon). In conjunction with the miniature pill (Ø 1,5 mm), response times of ≤ 5 seconds to a maximum of 10 seconds are achieved.
THERMIK thermistors correspond to DIN 44081, DIN 44082, and IEC 34-11-2, and exhibit a very high temperature sensitivity. The resistance increases strongly in the area of the rated response temperature. This change can be used to switch off the load circuit through a triggering device. Electronic evaluations of many different applications are also possible. The typical characteristics of THERMIK thermistors are presented in the temperature resistance diagram.
View more technical detail here, or contact us for additional information or to receive a quote.