THERMIK'S P06 Thermal Protector
Featured Product from Thermik Corporation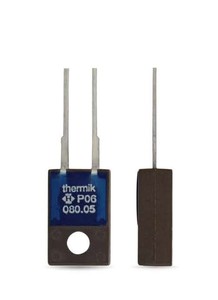 THERMIK's thermal protectors in series P06 features a ceramic deck-plate as contact-carrying part, excellent long term performance, very short bounce time, and instantaneous switching. The P06 has a nominal switching temperature range of 70 °C - 200 °C.
Normally closed
Resets automatically
With connection pins
With epoxy
Fully insulated in the attachment housing
Switchgear consisting of a mobile and circular contact bridge, a contact bearing pin, a spring snap-in disc and a bimetallic disc which is riveted into one another, undetachable and fixed in a positive lock and self-aligning between a non-conductive floor of a housing and an insulating ceramic bearing with two integrated stationary contacts as electrodes. At the same time, the switchgear is supported by the spring snap-in disc with the contact bridge acting as a transfer element for electric current which is held between a supporting collar and a circumferential ring. As such, the bimetallic disc underlying it, that is also stuck out from the contact bearing pin, can continuously work (exposed) by mechanical loads without the contact pressure defined by the spring snap-in disc diminishing. As soon as the bimetallic disc reaches its rated switching temperature, it effectively springs against the throw force of the spring snap-in disc into its inverted position. The contacts are abruptly opened. The temperature will now fall. The bimetallic disc will only snap back upon reaching a defined reset temperature and the contacts will be closed again. As the contact bearing pin is appropriately dimensioned, an easy, circular rotation of the circle-shaped contact bridge is enabled with every switch so that transfer resistances remain constantly below the minimum limit after many switch cycles and the long term stability is sustained even under high levels of stress.
View technical details here, or contact us for additional information or to receive a quote.