Thermal Protector in Type Series H06
Featured Product from Thermik Corporation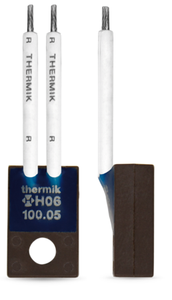 Similar to the P06 THERMIK thermal protector, the H06 features a ceramic deck-plate as a contact carrying part. The housing allows fastening to the object to be protected by a screw, such as heat sinks, housings, and pipes. The flexible lead wires of the H06 allow universal connection to remote circuits.
Normally Closed
Automatic Reset
With Connector Cables
With Epoxy
Fully Insulated in the Attachment Housing
The H06 has a nominal switching temperature of 70°C - 200°C, pressure resistance to the switch housing of 600N, and dielectric strength of 2kV.
For Normally Open, see Type Series H08 thermal protectors.
View more technical specifications on the H06 here, or contact us for additional information or to receive a quote.