Thermal Protectors for Direct Install into PCB
Product Announcement from Thermik Corporation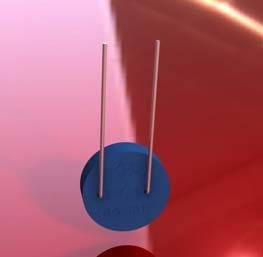 The Thermal Protector (TP) Type N01/NK1 (NC) and Type N02 (NO) with connection pins are specifically designed for direct installation into printed circuit boards for overheating protection of heat sensitive electronic components and circuits.
Design:
The Thermal Protector N01/NK1 and N02 are based on the well-proven mechanism of Thermik's product series 01 and 02, featuring two solid, non insulated connection wires either with vertical or horizontal take off. A high temperature resistant insulation cap insulates the protector on the terminal side and provides the required distance between the connection wires. The protectors heat sensitive side with the marking on it is not insulated (caution: on voltage potential) for better heat sensitivity.
Operation:
When the temperature has reached the factory preset value, the bimetallic disc activates the snap-action disc, which in turn opens the contact (N01/NK1) or closes the contact (N02). Only after a significant temperature drop, the bimetallic disc resets and causes the contacts to reclose (N01/NK1) or to reopen (N02).
---