Direct Contact Cooling to -100F
Product Announcement from TECA (ThermoElectric Cooling America) Corporation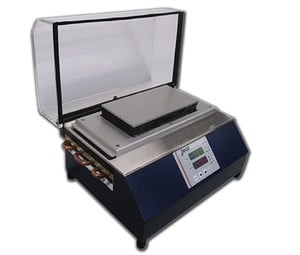 TECA Corporation (Chicago, IL), introduces a benchtop Liquid-Cooled Cascaded Cold Plate System for ultra-low temperature cooling. The LHP-1200CAS provides direct contact cooling down to -70C. Designed for laboratory use, the LHP-1200CAS offers versatility and precise control. It can be used to cool components, materials, chemicals, and samples in applications within embedded technology, test and measurement, life science, laboratory research, and other fields.
The LHP-1200CAS is a liquid-cooled thermoelectric cold plate system. Thermoelectric systems use no chemicals of any kind. There are no moving parts except forthe fluid and are thus virtually maintenance free. The cascade effect creates very low temperatures because each stage adds to the temperature differential of the lower stage. Within the LHPCAS products, three stage sizes and performance levels are available.

The versatility of the LHP-1200CAS allows it to be adapted for use in different applications. It can be used with any of the three cascade attachments, for low temperature cooling, or without the cascade attachment, for a larger cooling surface. The user can switch between internal or external RTD sensorsfor customized control. A programmable temperature controller with data logging software is included. A hinged cover and RS-232 communications are also included. Universal input voltage is standard.
TECA Corporation in Chicago manufactures a wide range of solid state thermoelectric cooling products, including air-conditioners, cold plates and liquid chillers. TECA was established in 1984 as a spin-off from Borg-Warner Corporation
---