Horizon Fog Testing System
Product Announcement from Thermo Fisher Scientific - Thermo Scientific Baths, Circulators & Chillers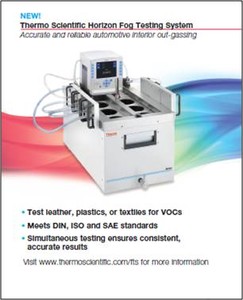 You can rely on the Horizon FTS to meet your needs when testing raw materials for VOC's regardless of the standard you choose to follow. Whether you are testing leather, vinyl, textiles, or plastics, your results will be consistent and accurate.
Reliable:
designed with robust components for dependable temperature stability from one sample to the next.
Consistent:
maintains constant test conditions to produce repeatable results between test batches, ensuring that the procedure is replicated every time and fulfills the DIN, ISO, and SAE standards.
Performance:
whether you need basic temperature control, ramp programs, or data analysis, choose the controller that is the best for your needs.
Learn more: download the brochure, appliation note, or technical information
Contact us: (800) 258-0830
---