Water-to-Water Heat Exchangers
Product Announcement from Thermo Fisher Scientific - Thermo Scientific Baths, Circulators & Chillers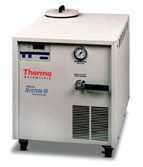 The Thermo Scientific System water-to-water heat exchangers provide a clean, stable, controlled,closed-loop water cooling system that rejects the process heat into an existing in-house facility water supply. This eliminates the problems associated with the direct use of in-house water such as insufficient or fluctuating flow, changing pressure, poor water quality, and temperature instability. Because the NESLAB System series heat exchangers take advantage of an existing in-house water system for heat removal, they use less energy and cost less to operate than traditional compressor-based chillers.
Cooling capacities up to 100kW
Simple, reliable design for years of worry-free operation
Compact footprint optimizes valuable floor space
Heat load sensing valve conserves facility water usage
Panel-mounted gauges monitor recirculating temperatures and fluid pressure (SYS-I and SYS-II)
Flow control valve allows precise setting of recirculating rate (SYS-III and SYS-IV)
High-temperature and low-liquid-level safety feature with status relay povide protection to temperature-sensitive applications

Certifications: CE

Recommended for:
Laboratory
Laser
Industrial
Semiconductor
Medical
Cooling capacity is based on a 10°C temperature differential between the cooling water supply and the cooling fluid flowing from the System to the instrument being cooled.
Visit www.thermofisher.com/tc to see the complete list of temperature control products.
---