Artéch Chiller Combines Performance & Design
Product Announcement from Thermocold Costruzioni Srl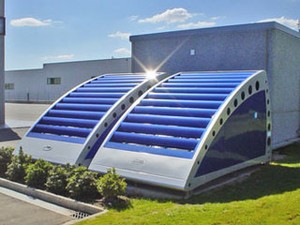 Innovation gets into the world of design with Artéch.
Thermocold's Artéch chiller combines an absolutely innovative design, made both to optimize performance and to blend harmoniously into any urban and architectural context.
Available in twelve sizes, with cooling outputs from 6 to 180 kW, Artéch has a structure made of an entirely galvanised and varnished sheet iron beam system and a work panel made of fibreglass. There is a wide range of Artéch colour schemes in order to provide a harmonious placement in any urban or architectural setting.
There is an extremely innovative design along with an extremely advanced technology: Artéch works with a R410A ecological condenser and scroll compressors with inverters to obtain maximum energy efficiency with minimum environmental impact. But that's not all: Artéch is also equipped with a touch-screen user interface which offers immediate control of visualization and continuous monitoring of all functioning parameters.
The innovative technological content also encompasses maintenance: by pressing just one key, you are able to open the rear panel allowing easy access to all internal parts.
Thermocold is known worldwide for innovative systems and solutions for heating and air-conditioning designed for residential, commercial, industrial sectors and for special customized application such as navy, explosion and fire proof environment (ATEX) and railway and metro transport sectors.
---