Domino Hp Exr: High temperature Heat pumps (65°C)
Product Announcement from Thermocold Costruzioni Srl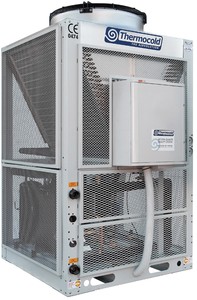 Heat pumps with Extended Operative Range for summer air conditioning, winter space heating equipped with three way valve system for hot sanitary water production.
The heating capacity range covers a very wide area from 61,2 to 301,5 kW.
Hot water temperature up to 65°C (149°F)
Outdoor temperature down to -25°C (-13°F)
DOMINO HP EXR is a heat pump unit equipped with innovative scroll liquid injection compressors optimized for heat pump operating mode.
It is characterized by an EXTENDED OPERATIVE RANGE:
HOT WATER PRODUCTION UP TO 65°C (149 °F)
OUTDOOR TEMPERATURE DOWN TO -25°C (-13 °F)
DOUBLE SET POINT FUNCTION FOR HOT SANITARY WATER
It is possible to manage and set 2 different set points for winter space heating and hot sanitary water production.
TYPICAL APPLICATIONS
Thanks to its extreme flexibility and the high temperature reached this unit is particulary suitable for centralized systems for apartments, publics buildings, schools, hotels, hospitals and fitness centers.
UNIT DESCRIPTION
Scroll liquid injection compressors with optimized compression ratio for heat pump operating mode, equipped with an electronic card for management and control also in remote.
Axial fans with continuous fan speed modulation according to the pressure of condensation and evaporation with airfoil blades extremely silent.
Evaporator stainless steel AISI 316 brazed plate type externally insulated complete of differential pressure switch and antifreeze protection electric heater.
Electronic Expansion valve.
Electronic Control 2012 release, developed thanks to a long and consolidated know-how, for the global control and diagnosis of the operating conditions, operating parameters, the pumps and fans rpm.
HIGHLIGHTS
Three-way valve system for hot sanitary water production.

Hot water production up to 65 °C (149 F) even at low outdoor temperatures without additional electric heaters.
High Performances COP>4,1 (UNI EN 14511:2008 regulation).
Dynamic Set Point: the setpoint is adjusted according to the outdoor temperature to optimize the energy supplied to the users for the entire operating periods.
Highest Water Production Temperature at low outdoor temperature.
Higher heating capacity than standard compressors.
Adaptability to interface with any installation (radiant floors, fancoils, radiators).
---