BTS Steam Tracer
Product Announcement from Thermon Manufacturing Co.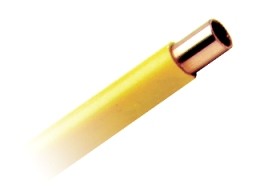 SafeTrace BTS is a metallic tracer tube covered with a special high temperature polymer jacket. The SafeTrace BTS jacket provides a measure of personnel burn protection without sacrificing thermal performance when compared to bare metal tube tracers installed on a pipe. SafeTrace BTS tracers utilize a safety yellow identification jacket to signify materials inherently dangerous such as steam per ASME/ ANSI A13.1-1996.
SafeTrace BTS is supplied in long length coils and may be installed anywhere bare tracing is specified.
Pipe Temperature Range: 38°C to 121°C (100°F to 250°F)
---