Custom Optical Fiber and Patch Cords
Product Announcement from Thorlabs, Inc.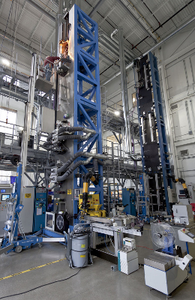 Capabilities
Specialize in Silica and Fluoride Glasses (Other Materials Available Upon Request)
Transmission from the UV to the MIR: 200 nm – 5.5 μm
Numerical Apertures: 0.10 to 0.48
Fiber Core Sizes Range from 2 µm (Single Mode) to 1500 µm (Multimode)
Active Fluoride Fibers with a Variety of Core and Cladding Geometries and Dopants such as Erbium, Thulium, and Holmium
UV and Thermal Coating Capabilities for Materials Including Acrylate, Polyimide, and Optical Polymers
Extrusion of Tefzel and Nylon Buffer Materials
Flexible Manufacturing Setups and Schedules Allow for Prototyping as well as Volume Production
Tensile Strength, Prooftesting, Static Fatigue, and Dynamic Fatigue Testing for All Fiber Types
Attenuation, Spectral Attenuation, Bend Loss, and NA Testing in Our Metrology Lab
Vertically Integrated Cabling Operation Provides a Full-Service Solution
Thorlabs' ITAR-certified fiber draw facility, located at our headquarters in Newton, NJ, fabricates specialty optical fiber for a variety of applications. In addition to manufacturing our extensive catalog offerings, this facility supports the flexible tower configurations and draw schedules required for fabricating custom fibers. Our engineering team has experience with designing and fabricating fibers for academic, industrial, and government applications.
The fiber drawn here is sold bare and is also made into connectorized patch cables or incorporated into many products in our ever-growing line of photonics equipment. This fiber will be sold to laboratories all over the world and will be used for everything from optogenetics to telecommunication applications.
Please contact our Technical Support Group with any specialty needs not covered by our standard offering.

Play Custom Optical Fiber and Patch Cords Video
---