Fluorescence Imaging Filters
Product Announcement from Thorlabs, Inc.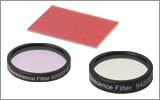 Features
Excitation, Emission, and Dichroic Filters for Fluorescence Imaging
Provide > 90% Transmission at the Desired Wavelength
Sharp Cutoff (T<0.001%) Outside the Transmission Band
For use with 9 Types of Fluorophores (or their alternatives)

BFP
CFP
WGFP
FITC
YFP
TRITC
CY3.5
TXRED

Excitation and Emission Filters are Mounted in Black Anodized Housings
Dichroic Filters are Unmounted
Filter Sets are Available at a Savings Over Individual Filter Prices
These excitation, emission, and dichroic filters are designed specifically for use in fluorescence imaging applications. The Ø25 mm excitation and emission filters are mounted in black anodized housings that are 5 mm and 3.5 mm thick, respectively, while the 25.2 mm x 35.6 mm dichroic filters are unmounted. Nine types of filters are available to accommodate key wavelength ranges for many common fluorophores (or their alternatives): BFP, CFP, WGFP, GFP, FITC, YFP, TRITC, CY3.5, and TXRED.
Filter Design
These filters are manufactured to high-performance optical specifications and designed for durability. They are produced with multiple dielectric layers deposited on a high-precision, fused silica substrate. The substrate is ground and polished to ensure that the highest possible image quality is maintained. These hard-coated optics produce filter layers that are more dense than those obtained from electron beam deposition techniques. The dense filter layers reduce water absorption and greatly enhance durability, stability, and performance of the filter. Each filter layer is monitored during growth to ensure minimal deviation from design specification thickness, ensuring overall high-quality filter performance. All filters conform to MIL-STD-810F and MIL-C-48497A environmental standards.
---