3W Single LED Gooseneck Light & Magnetic Base
Featured Product from Titan Tool Supply, Inc.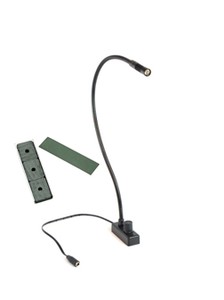 Using the latest in LED technology, the ANSER® outperforms many halogen products
in light illumination and energy efficiency producing 3100K color temperature.
The unique ANSER® hood is designed to minimize operating temperature and the compact
shape, lineal light output and adjustable gooseneck provides the ultimate in positioning flexibility.
The ANSER® is powered from the 110-volt power supply included with the light.
• 18" Long Single Gooseneck for ideal light positioning with magnetic base for use on industrial machinery and assembly stations
• Light & Portable Magnetic Base
• Sleek Anodized Protective Black Finish
• Bright 3 Watt LED Total Light Output
• Smooth Dimming
• 3100K Color Temperature white light
• Made in the USA
Titan Tool Supply, Inc. is a leading supplier of optical instruments, measuring instruments, inspection equipment and remote visual inspection. Since 1952 , Tital Tools has been serving the Research & Development Departments and Quality Control Departments for Aerospace and Defense Manufacturers, Automotive Manufactures, Electronic Manufacturing, Medical Manufacturing, Printing Industry, Universities and the Tool and Die and Mold Manufacturing Industry.