Diamond & Borazon Bottoming Grinding Pins
Product Announcement from Titan Tool Supply, Inc.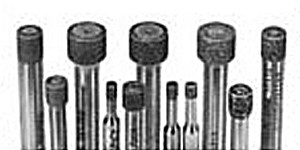 Titan Tool - BH Series Diamond and Borazon Bottoming Pins are manufactured for bottoming and shoulder grinding. Featuring Titan's Chrome-Lok Bond, developed from nearly 40 years experience in electroplating pins, 75% of the individual grain size is exposed for grinding purposes -- contributing to longer tool life. Since they never need dressing for wear, Titan's grinding bottoming pins cut faster and cooling with minimal clogging. These features, combined with rigid concentricity, size and hardness control of the steel shanks allow for faster feeds.
As there is no advantage to carbide in this application, the BH Series pins are constructed of steel. They feature a back taper, recessed center, and grinding dust exit slot. Two types are available: Type A for diameters 0.315" to 0.473" and Type B for diameters 0.591" to 1.00".
The 1/4" and 3/8" diameter sizes are hardened up to 58-60 Rockwell C Scale. Maximum rigidity and safety are thus provided for the work to be performed. All shanks are centerless ground to 0.0005" concentricity (+ 0.000" to - 0.002").
---