Bifurcated Gooseneck LED Microscope Illuminator
Featured Product from Titan Tool Supply, Inc.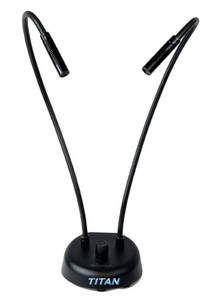 A free-standing, dual Gooseneck LED Lamp for inspection and assembly from Titan Tool Supply, designed by ANSER® provides an adjustable light source for microscopes and projectors. The bifurcated light guide consists of two 1/2-inch O.D. metallic-sheathed arms which can be bent to any angle.
The stay-put feature of the dual arms allows light to be delivered over, under, or beside the object to be inspected or measured. This makes it an ideal illumination accessory for stereo and measuring microscopes.
Using the latest in LED technology, the light guide outperforms many halogen products in light illumination and energy efficiency producing 3100K color temperature. A unique hood is designed to minimize operating temperature and the compact shape, lineal light output and adjustable gooseneck provides the ultimate in positioning flexibility.
Features
18" Long Dual Gooseneck's for ideal light positioning
Portable, lightweight, yet heavy-duty cast Aluminum base
Sleek anodized protective black finish
Dual 3-watt LED bright lights; 6-watt total light output
Powered from the 12-volt power supply included with the light
3100K color temperature white light
Specifications
Light Output @12": 400 Lux
Color Temperature: 3100 K
CRI (Color Rendering): 92 RA
Rated Life @12 V: 60,00 Hours
Ordering Information
Model Number: AN2-DL-18-LED
Illumination: Dual 3-Watt LED Lights
Price: $285.00