Borescopes/Microscopes..High-Output Illumination
Featured Product from Titan Tool Supply, Inc.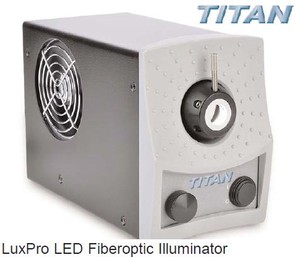 New "LuxPro" LED Fiberoptic Light System Introduced by Titan Tool Provides High-Output Illumination for Borescopes and Microscopes Cost savings for LED vs. quartz halogen EKE fiberoptic lighting offer payback in less than 2 years.
Titan Tool Supply, Inc., Buffalo, New York, announces the introduction of its new LuxPro LED fiberoptic illuminator to provide high-output light for borescopes and microscopes. Designed to exceed the brightness of a 150-watt halogen bulb while reducing energy consumption by approximately 50%, the new LuxPro illuminator offers optimal thermal management to maximize reliability and optical performance. Eliminating frequent replacement of lamps, the maintenance-free LED has a bulb life of 25,000 hours minimum, though 50,000 hours is typical, according to Titan Tool.
Priced at $625.00, the new LuxPro LED fiberoptic illuminator offers payback in less than two years compared to quartz halogen EKE fiberoptic illuminators, Titan Tool states. Halogen lamps need to be changed every 200 hours. Operating 2,000 hours per year, 10 replacement halogen lamps ($250.00 total @$25.00 each) are needed, and at 15 minutes per lamp change, 2-1/2 hours spent per year replacing lamps. Based on $20.00/hour for a maintenance worker to replace a lamp, plus $20.00/hour that the operator is idle, downtime costs can be $100.00 annually. In addition the new LuxPro uses a maximum of 80 watts while a standard quartz halogen EKE lamp will consume 150 watts. According to average national electricity rates ($0.135/kwh), LuxPro will reduce energy costs approximately $19.00 per year (over 2,000 hours), the company states.
The new LuxPro illuminator features linear light intensity control with continuous dimming and accepts virtually any light guide with quick change adapters, the company states. It provides consistent color temperature (cool white 4500 K) and is equipped with a standard 0.625" light guide fitting (nosepiece). Since Titan Tool can supply an adapter for virtually any size diameter fiber-optic cable from 0.187" to 1.0" (including Fostec 0.718" and ACMI), customers can use their current fiberoptic guides and ring lights.
Advanced heat pipe technology of the LuxPro uses metal core PCBs, and precision-engineered cooling provides quiet operation. The lightweight (7 lbs./3.2 kg) unit has rugged housing and a small footprint of 6" H x 4.75" W x 9" D (15.2 cm H x 12.1 cm W x 22.9 cm D) suitable for mounting and stacking in constrained areas. A universal power source connector enables worldwide operation from 96-264 VAC, 50-60 Hz.
Manufactured and tested in the USA, the new Titan Tool LuxPro LED fiber-optic illuminator features a one-year warranty and is part of a complete range of LED, fluorescent, and incandescent illuminators offered by the company, all in-stock for immediate shipment.
Titan Tool Supply, Inc. is a leading supplier of optical instruments, measuring instruments, inspection equipment and remote visual inspection. Since 1952 , Tital Tools has been serving the Research & Development Departments and Quality Control Departments for Aerospace and Defense Manufacturers, Automotive Manufactures, Electronic Manufacturing, Medical Manufacturing, Printing Industry, Universities and the Tool and Die and Mold Manufacturing Industry.