Depth Measuring Microscope with LED Illuminator
Featured Product from Titan Tool Supply, Inc.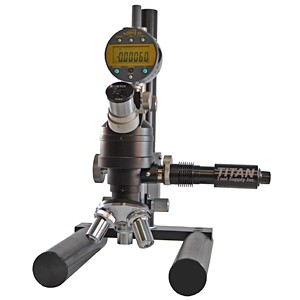 Titan Tool model ZDM-3 vertical displacement microscope measures minute variations in height. The Z-Axis electronic depth measuring microscope features a built-in LED co-axial illuminator to allow the user to focus on the top or bottom of the part being inspected. The illuminator includes a green filter and adjustable diaphragm to control light, color, and intensity.
Applications in the electronics industry include:
Semiconductor field to measure heights of the bonded portion of lead wire, wafer bump, lead frames, and solder.
Step heights of hybrid integrated circuits
Terminal steps on multi-layer PC boards

Other applications include:
Measuring the depth of minute cracks
Engraving depth of printing rolls and plastic molds
Depth grooves of computer media
The depth of score on beverage cans

Performance features:
Available with magnifications from 50X to 400X with a standard 10X eyepiece.
Available with 100X to 800X magnifications with an optional 20X eyepiece.
Can be fitted with a video adapter (Model TSTVA-12 available separately) to increase magnification range and to provide greater accuracy and ease of repeatability (from 0.0002-in. to 0.0003-in. or better).
The use of the video adapter relieves eye strain and allows for multi-viewing.
Titan Tool Supply, Inc. is a leading supplier of optical instruments, measuring instruments, inspection equipment and remote visual inspection.
Titan Tool Supply, Inc. has been serving since 1952 the Research & Development Departments and Quality Control Departments for Aerospace and Defense Manufacturers, Automotive Manufactures, Electronic Manufacturing, Medical Manufacturing, Printing Industry, Universities and the Tool and Die and Mold Manufacturing Industry.