Flexible Borescope...Reduced Price
Featured Product from Titan Tool Supply, Inc.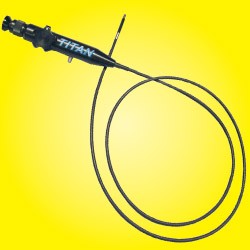 Titan Tool - A flexible borescope with a high resolution 17,000 element image bundle made in the USA. the FBS-6 models are an ideal choice for viewing otherwise inaccessible areas. They feature an objective end tip that can be deflected ±180°/±120° in either 2-way or 4-way articulation using a control knob next to the eyepiece housing.This enables easier positioning around elbows and bends in the work piece while enhancing the viewing area. TFBS-6Series borescopes offer internal and fibre-optic illumination options and are video adaptable.
Features & Specifications
Diameter: 0.236" (6mm)
Flexible Length: 1 Meter (40") & 2 Meter (80")
Minimum Bend Radius: 1.50" (38mm)
Illumination: 1 Watt LED battery handle Standard on 40"model 3V 3 "AAA" Cell
Fiber Cable Standard on 80" models
Magnification: 20X
Field of View: 55°
Focal Length: 0.20" to 4" (5mm to 100mm)
Maximum Temperature: 200°F (90°C)
Other Features:
±120° deflecting tip two-way up/down
±180° deflecting tip four-way right/left
FB-8 Fibre Bundle (optional)
Braided stainless steel sheathing is waterproof up to body of scope
Carrying case included
http://www.titantoolsupply.com/High_Resolution_6mm_Articulating_6mm_Fiberscope