High-Magnification Measuring Microscopes
Featured Product from Titan Tool Supply, Inc.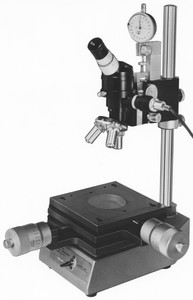 Titan Tool Supply Inc. TM Series high-magnification measuring and metallurgical microscopes. Featuring ultra-fine focus adjustment for the Z axis, the TM microscopes are ideal for measuring strain in lead frames for the semiconductor industry, height of bonded portion of wires, height of solder on printed circuit boards, water bump height, projection of head on VTR drum measurement steps, height steps on PC boards, scoring of metal cans, depth of engraving on plastic molds, and other fine measuring tasks.
Optically correct, the TM-8 and TM-10 measuring microscopes feature a 10X coated eyepiece standard with magnifications from 10X to 400X and resolutions ranging from 40.3 to 600+ line pairs/mm. An optional 20X eyepiece offers magnifications from 20X to 800X with resolutions from 57mm to 700mm. Objectives are 5X, 10X and 20X standard with 1X, 2X, 3X, 4X, and 40X optional.
TM Series microscopes feature a co-axial illuminator with a condenser, filter, and sub-stage illuminator, plus rack-and-pinion focusing with an ultra-fine depth focusing knob. Model TM-8 has a 2-in. travel in both its X axis and Y axis. Model TM-10 has 6-in. travel in its X axis and 2-in. travel in its Y axis.