LED Microscope Ring Illuminator...Low-cost
Featured Product from Titan Tool Supply, Inc.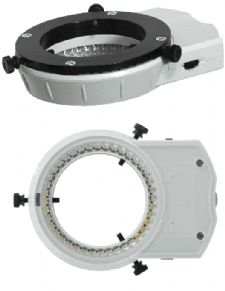 New low-cost LED microscope ring illuminator from Titan Tool Supply features a constant-current design to provide maximum light output with no color shift when dimming. Only $300.00, model T30LED has 40 top-quality, high-brightness white LED lights set in a CAD-designed, precision-aligned array, and housed in a sturdy, durable machined aluminum and molded plastic enclosure. It offers outstanding illumination performance in a rugged, attractive package and made in the USA.
Specifications:
360° shadow-free illumination
40 high-bright LEDS
6500° K spectrum (approx.)
Machined aluminum and plastic enclosure
3-point, soft-tipped mount
Silent, no-vibration operation
1.09" thick x 4.08" O.D x 5.30" long
Fits 1.25" (32mm) to 2.6" (66mm) lenses
Optimal working distance 3" to 6"
Integrated controller with adjustable brightness (10% to 100%) and universal power (100-240VAC 50/60Hz)