Low-Cost Measuring Microscope for Machined Parts
Featured Product from Titan Tool Supply, Inc.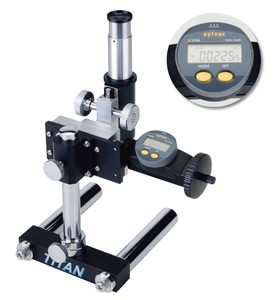 Model No. XAM-1

The X-axis Model XAM-1 measuring microscope from Titan Tool Supply provides optimal flexibility, speed, and accuracy for routine measurements. Enhanced with various accessories and options, the XAM-1 offers a low-cost alternative to more expensive measuring instruments such as an optical comparator, standard toolmaker's microscope, or a video measuring system
It is designed for a wide range of quality control measurements in metalworking of miniature machined parts, and other applications such as printed circuit boards, electrical circuits, and small plastic-molded parts.
The portable XAM-1 is a unique measuring microscope because it is not limited by magnification, field of view, or a calibrated reticle for its measuring capacity. It can be placed over any work piece to measure from point A to point B or any intermediate point along a straight line within the field of view. Measurements are taken by the microscope moving on a precision dovetail slide actuated by a control knob on a digital micrometer.
Movement is read on a precision digital micrometer in divisions of 0.00005" or 0.001mm.
Standard magnification is 40X using a 10X eyepiece and 4X objective lens; however, magnification capability ranges up to 400X as five optional objectives are available (from 2X to 20X) along with an optional 20X eyepiece.
Field of view at 40X is 0.402".
Working distance is 0.910".
Resolution is 161 lines/mm.
A simple cross hair reticle is optionally available to replace the calibrated reticle.
The XAM-1 can be converted to video by replacing the eyepiece with a "C" mount video adapter and replacing the fiberoptic illuminator with a fiberoptic light ring. For enhanced illumination, an optional 150W halogen light source is used in conjunction with bifurcated 18" light guides.
Since the Model XAM-1 sits directly over the work piece to be measured, it will not disturb machine set-up and can be used where it is not feasible to bring the work piece to the measuring tool, as is necessary for an optical comparator or toolmaker's microscope. Construction of the stand of the new XAM-1 is modular, allowing the legs to be removed in favor of a vertical post for special applications.
Optional Extras:
Extra Objectives 2X-5X
Extra Objectives 10X-40X
Extra 20X Eyepiece with Reticle