Micro-finishing Diamond, Borazon & Carbide Pins
Featured Product from Titan Tool Supply, Inc.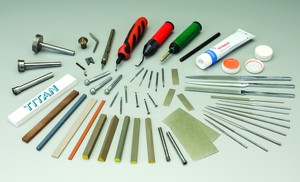 Titan Tool announces the expansion of its line of micro-finishing tools including diamond, borazon, and carbide grinding pins, diamond and borazon grinding and mounted wheels, diamond files (needle, riffle, and miniature), Swiss needle files, rout-a-burs and scrapers, and polishing products. A variety of new product types, sizes and shapes are now offered for a variety of applications.
Applications for the new micro-finishing tools include: finishing carbide ceramics, hardened steel, fiberglass, graphite, epoxy and other materials; polishing plastic molds, carbide dies, and die casting dies; grinding and finishing of dies, stainless steel, super alloys, cast-iron, and other metals; and lapping of carbide dies and blanks.
For more information click on the links on the left or e mail your inquiries