New Ion 4.3 Portable Video Inspection Magnifier
Featured Product from Titan Tool Supply, Inc.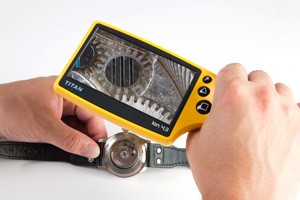 The Ion 4.3 is an award-winning inspection magnifier that provides a crystal-clear image for the user to perform quality-control and related functions. Suitable for quick and immediate use, the Ion is compact and comfortable to hold and is highly intuitive to use. It is designed to replicate the look and feel of an optical magnifier.
The Ion 4.3 display delivers an unrivaled sharp, bright and high-contrast image. Its stunning color image and wide viewing angle provides convenient use in hard-to-access places and under poor lighting conditions. Unique, patent-applied-for dimensioning grids and cursors enhance the capability and efficiency of decision making for inspection operators and technicians.
Special Features:
Accurate & detailed inspection of a wide range of objects enabled through lossless image quality and super-sharp magnification up to 14x with high resolution TFT display and adjustable LED illumination.
Instant on-screen measurement for quick and cost-effective quality assurance provided by integrated on screen XY dimensioning grids and cursor functions.
Easy recording and traceability of 100 images with date stamp using image capture software for accurate quality control records.
Mobile visual inspection tool suitable for difficult-to-access areas and under poor lighting conditions due to its compact, portable design.
Unique liquid lens technology provides a wide focus range, fast response time, excellent optical quality and low power consumption.
Applications:
Visual Inspection
Non-contact Dimensional Measurements
Quality Control
Digital Image Recording & Documentation
Repair & Rework
Information exchange & Easy Reporting