Diamond Needle Files...New Lower Cost Premium
Product Announcement from Titan Tool Supply, Inc.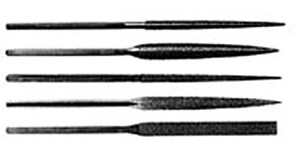 Introducing new lower prices- Titan Tool Supply announces the availability of its complete line of Premium Diamond Needle Files in-stock, ready-to-ship. Designed for use on carbide, hardened steel, and ceramics, the diamond particles are electroplated with a nickel-chrome bonding for reduced wear and long tool life.
Made with hardened steel blanks for use in filing machines, Premium Diamond Needle Files from titan tool are available in three grits: Fine (200/240); Medium (120/160); and Coarse (80/100). The diamond-coated length of each file is 2-3/4" (70mm). Total length measures 5-1/2" (140mm).
Premium Diamond Needle Files from Titan Tool are available in 11 profiles: Barrette, Equalling, Warding, Crochet, Three Square, Square, Half Round, Round, Knife, Slitting, and Crossing.
---