TVT Video Borescope
Featured Product from Titan Tool Supply, Inc.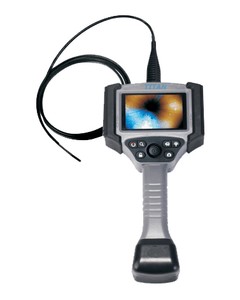 The Titan Tool Supply, Inc. TVT Series Videoscope is a high
quality, cost effective tool for all your Remote Visual
Inspection needs.
There are 5 different models with 3 diameter sizes and 3
lengths available. Diameters available are 2.8mm, 4mm and
6mm, with lengths from 1m to 3m.
The mechanized joystick uses input to directly control the
camera articulation. This results in a smooth and accurate
control of the articulating tip, with immediate response to the
joystick inputs. This allows the camera tip to be steered
through narrow bores, channels and complex curves.
Additionally, the camera will hold its position even when the
joystick pressure is released. No other borescope is easier
to use.
Ideal for aviation maintenance, casting inspection, cavity
inspection, diesel engine repair, gasoline engine repair,
locomotive maintenance, ship maintenance or any where
you need remote visual inspection.