Titan's Miniature Diamond Files.
Featured Product from Titan Tool Supply, Inc.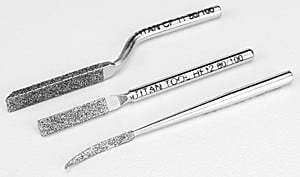 Ideal for machine or hand use, miniature diamond files from Titan Tool Supply now has the same price for any grit depending on profile.They will fit all high-speed reciprocating hand pieces whether air-powered, flexible shaft, or for new ultrasonic machines.
Manufactured from the finest man-made diamond, Titan's miniature diamond files are selectively graded for uniformity and attached to their steel cores with ultra-high concentrations of diamond grains. Applications are widespread from precision burring to the polishing of plastic molds and carbide dies. Shank diameter is 0.118"/3mm.
The selection of miniature diamond files from Titan Tool includes eight different profile shapes with diamond lengths of 0.590"/15mm and an overall length of 1.968"/50mm. (Note: two profile styles offer diamond lengths of 0.984"/25mm. with an overall length of 2.362"/60mm.) Each profile is available in at least two and as many as five sizes in coarse (80/100), medium (120/140), and fine (170/200) grit.