Improve winery function & efficiency
Featured Product from Titus Company (The)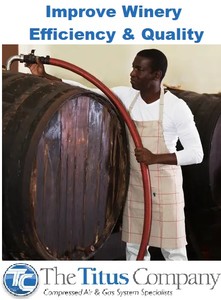 Pressing, crushing, heating/cooling, aeration, bottling, labeling, sparging. When it comes to winemaking all these processes can benefit from air compressors to boost production efficiency & decrease manual workload.
Wineries are known for developing high-quality products, so those entering this industry need to consider the tools that make that possible. One piece of equipment you'll find in almost any winery is an air compressor. These versatile tools fill a wide range of compressed air applications for wineries, including helping to generate nitrogen gas.
How Do Wineries Use Air Compressors and Nitrogen Gas Generators?
Air compressors can power many different tasks on the winemaking floor, such as the following:
Pressing and crushing grapes:

With a bladder press tool, an air compressor can make quick work of grape crushing.
Temperature control:

Fermentation occurs best at certain temperatures, and air compressors can provide heating and cooling.
Filtration:

By powering a filtration system, air compressors can help remove impurities from the product.
Those are only a few examples, but winery air compressors are typically oil-free to allow for versatility in terms of powering tools or having direct contact with the product.
A critical component of winemaking is nitrogen gas. Its main use is in container filling, where nitrogen displaces oxygen and other gases like carbon dioxide. By replacing oxygen with nitrogen, wineries can control oxidation processes that can negatively affect the consistency and flavor of the wine. It also helps to extend shelf life and support stability in storage.
Access in depth details about winery applications and equipment here