Retrofit your Air & Gas Dryer
Featured Product from Titus Company (The)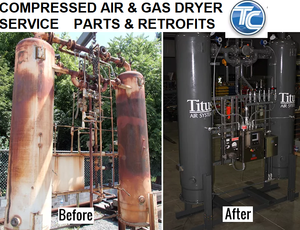 Kemp compressed air dryers and related Kemp spare parts and equipment were extremely popular for many industrial uses.
Whether the application was manufacturing, military, automotive, pharmaceutical or any of a number of other industries that required pure, dry air, companies all over the world sought out Kemp compressed air and gas equipment. As a result, there is a large population of Kemp units that are still in operation, and they require a knowledgeable supplier to keep them up and running. That is where The Titus Company comes in. With a knowledge base of over 75 years of combined experience, Titus has the expertise, parts or replacement equipment to keep your systems and processes operational for years to come.
Kemp Oriad dryers were extremely popular due to their very low life-cycle costs, long life, low energy usage, flexible design and high efficiency. However, you can find just about any type of Kemp dryers you need through The Titus Company, from Kemp heat reactivated dryers to heatless desiccant dryers and even miniature heatless desiccant dryers.
If you've been searching all over for a great source for quality Kemp products spare parts and service, you've found it here with The Titus Company.
No matter what series, type, or size of equipment and regardless of where you are located around the globe, The Titus Company is the only name you need to know. Our experienced inside support staff will work in conjunction with our expert field service personnel to take care of any Kemp systems.
Contact us via the links on this page - or e mail your questions - we are here to help