Why use Gas Generators in Food/Bev Processing?
Featured Product from Titus Company (The)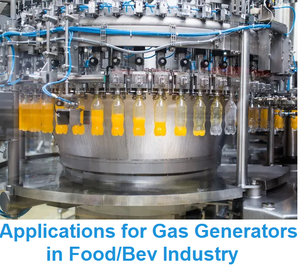 Standards for food and beverage manufacturing and distribution are tougher than ever. Food and beverage manufacturing equipment must work hand-in-hand with high-quality compressed air through reliable compressed air generation in order to meet those standards and function effectively. When dealing with products that people will consume, high-purity air is an absolute must.
The most useful products for food and beverage applications will usually be high-quality air compressors. Food and beverage manufacturers may want to opt for oil-free air compressors to protect the factory floor from oil contamination. Nitrogen gas generators can also prove quite useful in the food and beverage industry.
Air compressors for the food industry can be divided into three categories:
Contact system, which comes in direct contact with food.
Non-contact high-risk system, which is used for production but does not come in direct contact with food.
Non-contact low-risk system, which does not come into direct contact with food surfaces or products.
Learn more about specific applications and benefits in the full article HERE