B3W Electric Belt Drive - High Thrust, Fast Speeds
Product Announcement from Tolomatic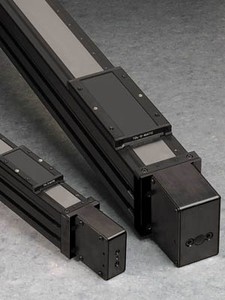 Tolomatic has introduced an advancement in rodless cylinders with the B3W Series electric belt drive actuator. This new belt drive series offers higher thrust capabilities, faster speeds and longer strokes than Tolomatic's B3B series. That equates to better performance at no additional cost.

"For the B3W we took the same proven bearing structure of the B3B and made the belt wider for longer strokes at greater speeds," said Phillip Cinq-Mars, Mechanical Engineer for TOL-O-MATIC. "The B3W gives our customers the benefit of more speed, thrust and acceleration for a cost-effective alternative to auxiliary rail systems."

The B3W is designed for high wear resistance, repeatable accuracy and high load capacities. It features a patented heavy duty sealed bearing system at both drive and idle pulleys, stainless steel dust band for internal parts protection, and a urethane steel belt. Because of the B3W's sturdy construction, consistent tracking is maintained for the full life of the actuator.
For more information on the B3W belt drive actuators, click here!
---