Custom actuator products
Product Announcement from Tolomatic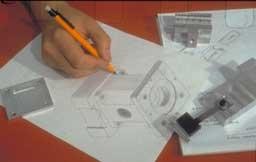 The break from standard to custom products is often difficult for a company because of the unusual mixture of talents necessary to pull it off well. The ability to tackle custom work requires that a company have a strong design engineering department, a group of people who are willing to think, as they say, out-of-the-box.
At Tolomatic, we employ a staff of highly trained and educated mechanical, electrical, and application design engineers. These talented employees continually create efficient, leading-edge solutions for a variety of customers in a wide array of industries.
We have our own in-house modeling and testing capabilities. where models can be easily altered and controlled to fit the needs of the final design. In fact, the skilled artisans in our model shop can create a design prototype quickly and efficiently while controlling the complete process so that the final product conforms to the highest quality standards. We can handle both the custom design and provide manufacturing services, which means that we are keenly aware of the costs associated with tooling and assembly.
Overall, We pride ourselves in providing actuators, whether they be from our standard line, a modification of a standard product, or through blank-page, out-of-the-box custom designs, that meet every specification our customer's project requires.
Creating a custom product starts with meeting several of our design engineers for preliminary evaluation and concept analysis. It then follows through to the design and prototype of an initial product. The customer evaluates the prototype while we test it and procures materials, then we create secondary prototypes. Further evaluations follow if needed, and then the approved component is produced. But it is not through the process so much as through example that truly exploits our capabilities in design and production of electro-mechanical, fluid, and power transmission technology. The following examples are just a few of the innovative products we have produced.
---