Slide-Rite Gearboxes Now in 2:1 and 3:2 Ratios
Product Announcement from Tolomatic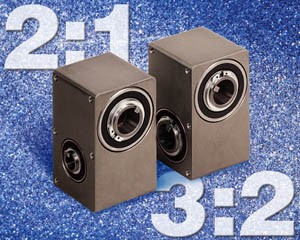 Tolomatic has announced it now offers its popular Slide-Rite® Gearboxes in new 3:2 and 2:1 gear ratios and metric versions in 1:1 ratios. Slide-Rite Gearboxes feature Tolomatic's unique product design and manufacturing philosophy with Endurance TechnologySM for the most rugged products available that perform reliably right out of the box.
"With the addition of 3:2 and 2:1 gear ratios and an offering of metric Slide-Rite models, we are able to offer our customers more of the products they need for a wider variety of applications," said Keith Hogan, Power Transmission Product Manager for Tolomatic.

Slide-Rite Gearboxes consist of two 45-degree helical gears that mesh at right angles and turn power at 90 degrees. The industry proven slide-through shafting allows the device to slide axially along keyed shafts in either direction, limited only by the length of the keyway. This type of floating design allows for easy installation and fast changeover. Slide-Rite Gearboxes also maintain perfect alignment, eliminating the need for dangerous chain sprocket drives and additional adjustments required for chain drive applications.

Endurance Technology makes the Slide-Rite Gearbox ideal for a variety of applications. For example, Slide-Rite Gearboxes feature a hard coated aluminum case and hardened alloy steel bearings and gears for high torque performance, greater efficiency and long life. The one-piece housing provides leak-proof performance, protects inner components from contaminants, and is prelubricated for long trouble-free service. Slide-Rite Gearboxes are capable of input speeds up to 1200 rpm with only 1 degree of backlash on reversal of input.

Slide-Rite 3:2 and 2:1 Gearboxes are available in bore sizes from 3/4 to 1-1/4 inches. Metric 1:1 models are available in full and compact sizes with bores ranging from 12 to 30mm. The addition of these two new ratio offerings to the current 1:1 ratio line makes Slide-Rite gearboxes perfect for a variety of packaging, assembly, material handling and conveying applications. For applications in harsh environments, Tolomatic also offers the corrosion-resistant Slide-Rite CR model that features electroless nickel-plating on all exposed components.
For more information, contact: Tolomatic, 3800 County Road 116, Hamel, MN 55340 Phone: 800-328-2174 Fax: 763-478-8080 or click here...

Tolomatic, Inc. is an ISO 9001:2000 certified manufacturer with sales representation throughout the world. Tolomatic has been designing and building high quality linear motion control products for over 50 years.
---