Metric Thread Identification Kit from Tompkins
Product Announcement from Tompkins Industries, Inc.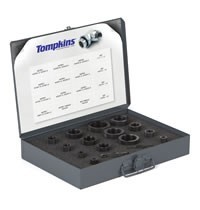 With the Tompkins Thread Identification Kit, you get precise identification of both metric and BSP threads.
Kits for Both Male and Female Threads
Tompkins offers 2 kits: female-threaded gauges for use in identifying male threads as well as male-threaded gauges for use in identifying female threads.
Features
These portable, compact kits feature 14 dual-threaded gauges that allow you to measure 28 thread sizes quickly and accurately. Made from hardened anodized aluminum and labeled with laser-engraved sizes, these gauges are durable yet lightweight and easy-to-read for a fast ID.
Reduce Mistakes
Eliminate the costly guesswork of trying to compare your parts to fittings which often vary from specifications.
Questions and Product Support
Have questions or need more information? Tompkins customer service representatives are available to help. Phone: 800-255-1008 Fax: 800-959-3333.
View the Thread Kits at Tompkins website.
---