Protec® Nylon Hose Sleeve
Product Announcement from Tompkins Industries, Inc.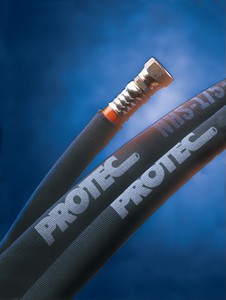 Protec Nylon Hose Sleeve from Tompkins is a self-renewing, abrasion-resistant fabric sleeve designed to protect hydraulic hoses. It is woven from thousands of nylon filaments. As it is scuffed and worn, its filaments friz, forming an even thicker, more protective shield.
This smooth-bore sleeve is easily installed over hose, chains, cables or springs and may be secured with nylon cable ties or band-clamps.
* Tompkins also can customize Protec with your company's name and logo.
View the full line of Protec products.
Tompkins — for all of your hydraulic adapter and accessory needs.
Tompkins offers more than 16,200 different configurations. That adds up to the broadest line of forged adapters in the industry — including J.I.C., S.A.E. Boss O-Ring, pipe, metric, o-ring face seal, compression, flange pad and split flange, from 1/16 to 3-inches. Available in carbon steel, stainless steel and brass.
Shipping Guarantee
All in-stock orders received by 8:30 pm EST will ship same day. We offer a variety of UPS shipping options.
Customer Service
If you are having trouble finding answers to your questions or need more information, customer service representatives are available to help:
Phone: 800-255-1008
Fax: 800-959-3333
Online form: Contact Tompkins
---