Peening Hammer
Product Announcement from Tooling Technology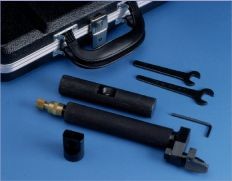 This pneumatic tool can be introduced inside the Punch and Die assembly right through the Bolster Plate and Die Shoe where it can perform a perfect peening job. A worn punch or die can be back in operation within minutes! After one time of "peening" excessive clearance between worn punch and die, this proven tool will have paid for itself!
Fully Adaptable
The Model 69 Peening Tool can switch to three different modes in a matter of minutes (see drawings on website). This tool can handle any peening job, dies, punches - on or off your machine.
Main Features
■ simple design allows relatively unskilled workers to perform a professional peening job
■ assures easy access to hard-to-reach equipment
■ unique tracer allows the hammer to follow the cutting edge of the Punch or the Die with unerring accuracy - internal corner radii as small as ½"
■ shaped and dimensioned to deliver 6,000 blows per minute
with just the right force to cause steel to yield and flow in the precise form and direction
■ Perfectly counter-balanced for vibration-free control and ease of use. A perfectly smooth appearance of the peened cutting edges is the result
---