Machining of AlN (Aluminum Nitride)
Service Detail from Top Seiko Co., Ltd.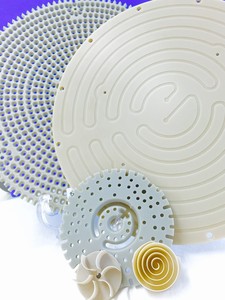 Aluminum Nitride is a material that has heat resistance, high thermal conductivity, dielectricity, piezoelectricity, low thermal expansion, and so on. Because of those properties, this material is often used for heat sinks, heaters, substrates, and so on. For example, we machine it into a part for semiconductor manufacturing devices or ESC for CVD devices.
You would find more details and samples of AlN here.
Properties of ALN (Aluminum Nitride)
| | |
| --- | --- |
| Melting point | 2200°C |
| Thermal Shock Resistance | 400°C |
| Thermal conductivity | 170~200 W/(m.K) |
| Thermal expansion coefficient | 2.4 x 106 |
| Specific gravity (density) | 3.3 |
| Hardness | Hv 13 GPa |
Application Examples
ALN substrate
ALN heat sink
ALN pipe
ESC for CVD devices
high frequency printed circuit board
power mudule substrate
electrostatic chucks
clamp ring
parts for high thermal conductivity is essential