TORNADO ACS 28 Cleaning & Restoration System
Product Announcement from Tornado ACS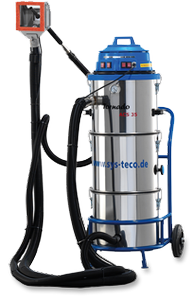 Using a patented chemical-free and waterless negative pressure jet system that has already revolutionized the Cleaning & Restoration Industry in Europe, the German-engineered Tornado ACS is now poised to enter and dominate the North American marketplace by transforming almost any damaged surface back into its original condition safely, quickly, affordably and with no environmental damage, hazards or risks. With remarkable speed and effectiveness, and without water or chemicals. Tornado ACS:
Removes rust and paint from surfaces, polluted tiles and other floor coverings.

Restores smoke and fire damaged areas in both private homes and commercial properties.

Remediates mold completely which is one of the biggest concerns facing families and homeowners.

Cleans ugly and unwanted markings and environmental contaminants such as paint, graffiti, road spray and tars, soot, chemical emissions, iron oxides, rust, mold, printers ink, caustic stains, hydrocarbon and more.

Works on common surfaces like brick, concrete, plaster, natural stone, tile, rock, wood, plastic, metal and more.
---