Adjustable Friction Hinges
Featured Product from TorqMaster International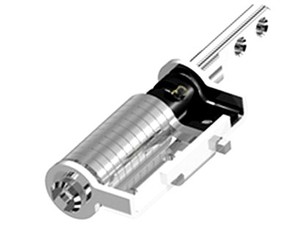 Features: TorqMaster hinges have no backlash or free play and minimal springback. Friction elements are spring steel. Corrosion protection is available. Please inquire regarding hinge conductivity. All shafts rotate 360 degrees. All hinges feature constant torque over life (30,000-plus cycles typical). TorqMaster hinges are assembled from inventory for fast delivery with no tooling charges.
Applications: Laptop & notebook computers, Flat panel & LCD display mounting & positioning, Medical equipment, Protective covers, Access panels, Office equipment, Control Panels, Cameras, Computer peripherals, anything that has to pivot….and stay put!
Call us: Please fax drawings of your project to our sales department. Our engineers will help you choose the appropriate hinge, torque and torque directions or detent options. Custom Hinges or variations of stock designs are available for higher volume OEM applications, however a semi-custom shaft in a standard housing can often solve many design challenges.
* All TorqMaster hinges are available in balanced (same torque in both directions) or unbalanced (higher torque in one direction with approximately 35% less in other direction) and in left and right hand configurations (mirror image of shaft exiting housing)
Some of the industries that our hinges are used in include:
Medical equipment
Aviation
Automotive
Electronics
Computers (notebook, laptop) and peripherals