Heavy-duty Constant Torque Hinges
Featured Product from TorqMaster International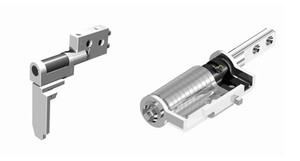 TorqMaster heavy-duty friction hinges allow smooth and consistent action while holding a comfortable viewing position.
Applications: Tilting, movable Screens, Flat panel, LCD, touchscreen display monitor mounting & positioning. Medical equipment, Point of Sale and Kiosk Computers, Digital Cameras, Machine Vision Systems, Protective covers, Access panels, Office equipment, Control Panels, Cameras, Computer peripherals, Voting machines, Laptop & notebook computers. Anything that has to pivot and stay put!
Application matters in choosing the right hinges for your design! Let our engineers will help you choose the appropriate hinge, torque, torque directions and more for optimal performance in your application design. Call or fax drawings of your project.
TorqMaster friction hinges feature:
Constant Torque over product life (30,000-plus cycles typical)
Designed to withstand demanding applications
Smooth operation without noise
Corrosion and high temperature resistant
Application/design assistance
Balanced or Unbalanced Torque – specify the torque & torque direction required.
Available in right or left hand configurations
No backlash, minimal or no spring back
360 degree shaft rotation – pivot and stay put in any position
Ability to mix and match housings & shafts / adapters to fit exact requirements
100% product testing available – min / max and average torque
Smooth, consistent feel over hinge lifetime
Friction elements are spring steel
Fast delivery with no tooling charges on TorqMaster hinges assembled from inventory
Stock Friction Hinges- Our most popular friction hinges — based on shaft diameter and housing style — are available and easily integrated into new designs, eliminating the need for tooling and development programs for a majority of projects.
Custom Friction Hinges- We can help you design the optimal housing, mounting configuration, materials and torque for your specialty hinge needs.
Using another hinge? Drop-in replacement hinges can enhance product performance while reducing costs.
Custom Hinges or variations of stock designs are available for higher volume OEM applications, however a semi-custom shaft in a standard housing can often solve many design challenges. Talk with one of our engineers to help you with a solution to your specific needs regarding friction hinges.
GLOBAL LEADER IN TORQUE HINGES- Original Equipment Manufacturer (OEM) for Stock and Custom Friction Hinges, Torque Hinges, Constant Torque Hinges Damping Hinges, Positioning hinges, Constant force hinges, one way hinges and more… REACH, RoHS and conflict minerals compliant. ISO 9001:2015 Certificate No. 9985QMS001