Manufacturer (OEM) Custom & Stock Friction Hinges
Featured Product from TorqMaster International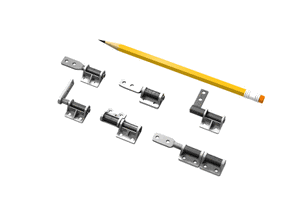 Manufacturer (OEM) Custom & Stock Friction Hinges
Click here to access Friction Hinge 2D/3D Drawings, Models & Life Cycles
Quality-
ISO 9001:2015 Certificate No. 9985QMS001
One of the first manufacturers in Connecticut to receive ISO Certification
RoHS, REACH and conflict minerals compliant
We offer focused customer service and engineering, our specialty for over 30 years. Our typical customer is a manufacturer of the above listed products, or a contract manufacturer, or a specialty distributor. All of our hinges are made in the U.S.A. by us and shipped worldwide.
Some Applications-
Our stock & custom friction hinges, positioning hinges, torque hinges, torsion hinge, and damping hinges have several applications. They are used in medical monitors, notebook computers, electronics, server racks, automotive screens, lab equipment, aviation and aircraft interior applications such as displays, seats & tray tables, printer covers, office equipment, point of sale terminals, food service equipment, access panels and covers, lab equipment, and industrial displays.
Torqmaster International
Contact us today!
203-326-5945
888-414-4643 (Toll-Free In USA)
200 Harvard Avenue, Stamford CT 06902-6320