AS9100 Certification
Service Detail from Trace-A-Matic Corporation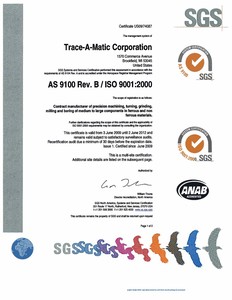 What's New at Trace-A-Matic
AS9100 Accreditation for Trace-A-Matic
Trace-A-Matic Corp, already known for machining precision components to high standards, recently raised the bar by having their quality system certified to the AS9100 standard. Through the efforts of Bob Carty, Quality Director, Bob Gillett, Quality Systems Specialist, and their team of internal auditors, we've moved from ISO 9001:2000 to AS9100, which is inclusive of the former. As Trace-A-Matic continues to build a reputation for precision aerospace machining the structure of the AS9100 certified quality system will be invaluable.
Prior to AS9100, while under the ISO 9001:2000 systems, Trace-A-Matic performed at the second tier level for several major players in the aerospace engineering field. With the AS9100 accreditation we've already seen new opportunities for aerospace machining as a tier 1 supplier. This, of course, was our goal!
With a wide variety of specialty equipment (see equipment list) that facilitates larger components Trace-A-Matic can offer precision manufacturing capability to customers in any industry. Couple that with our intimate knowledge of more exotic materials including titanium, inconel, hastelloy, as well as high alloy steels, and Trace-A-Matic becomes the "go to" shop for aerospace machining needs.
And for manufacturers in industries other than aerospace the AS9100 certification provides further assurance of the highest quality precision machining that is the Trace-A-Matic legacy. Regardless of the end use Trace-A-Matic will deliver only the best for all of our valued customers.
---