Horizontal Turning
Service Detail from Trace-A-Matic Corporation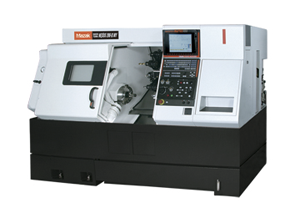 Among the core competencies at Trace-A-Matic is horizontal turning. We offer 25 state-of-the-art spindles configured and supplemented for maximum productivity. In the hands of our highly skilled machinists, this equipment becomes veritable chip-making weaponry!
Many of our lathes are set up in cells. Some are supplemented with live tooling on the machine and some are supplemented with auxiliary equipment, like mills and/or grinders for secondary operations within the cycle time. We plan the process which we will use on your part by selecting the cell configuration that is best suited to the requirements and is the most economical. The capabilities of the various work cells do overlap so we generally have a backup to the chosen primary work center.
Our larger horizontal CNC lathes, Mazak Powermasters, offer large part capability up to 156" between centers, with 22" over the carriage and 35" over the ways. We also offer a brute Mazak ST-60N slant bed that has 100" between centers and a 25" chuck. This machine holds remarkable accuracies for its size and power.
Various Mazak Quick Turns and Super Quick Turns, plus equipment by Nexus and Integrex in different combinations, compose the turning work cells we offer.
---