Advanced Thermal Camera
Featured Product from Transcat, Inc.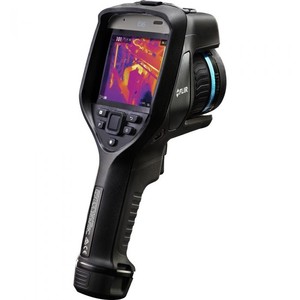 FLIR E95
Advanced Thermal Camera 464x348 with MSX, 24 deg
The FLIR E95 is a powerful and brand new edition to the all new Exx-Series Thermal Cameras. The E95 has been engineered to bring top level performance and display technology. It is a perfect fit for a wide variety of applications including industrial inspection, plant maintenance inspections, home inspections, energy audits, and building envelope testing.
FLIR E95 Highlights
IR Resolution: 464 x 348 (161,472 pixels)
Temperature Range: -4°F to 248°F, 32°F to 1200°F, 572°F to 2732°F
Thermal Sensitivity/NETD: < 0.03°C @ 30°C (86°F)
Removable SD card (8 GB)
Image Format: Standard radiometric JPEG, measurement data included
Electrical and Mechanical Applications

Laser-assisted autofocus
Wide temperature ranges, up to 1500°C
Vibrant, 4" optically-bonded PCAP touchscreen with 160° viewing angle
Wi-Fi, METERLiNK® connectivity
Streamlined reporting features
FLIR's industry-leading 2-5-10 warranty
Building Applications
Fast, precise laser-assisted autofocus
Grip, trigger, and buttons designed for easy one-handed operation
Sensitive enough to clearly identify hidden building deficiencies
On-screen area measurement (E85, E95)
True 42° field of view (FOV)
Wi-Fi, METERLiNK® connectivity
Streamlined reporting features
Each Unit Includes
Infrared camera with lens
battery (2 ea)
battery charger with power supply
front lens and light protection
straps (hand and wrist)
lanyards
lens caps (front and rear)
lens cleaning cloth
15 W3 A power supply
printed documentation
8 GB SD card
Torx screwdriver
cables (USB 2.0 A to USB Type-C,USB Type-C to HDMI, USB Type-C to USB Type-C)
Watch>>>Transcat Company Overview
Transcat
Founded in 1964, Transcat has been supporting industry's test and measurement requirements for over 50 years. We serve customers within such areas as the pharmaceutical, industrial manufacturing, energy, and chemical process industries.
Transcat's Application & Resource Center
Let our metrology experts support you in more ways than just providing excellent calibration and consulting services. Please take some time to view and read our calibration resources. We continue to develop additional pieces that are pertinent to our customers.