Cable Tester Rental
Featured Product from Transcat, Inc.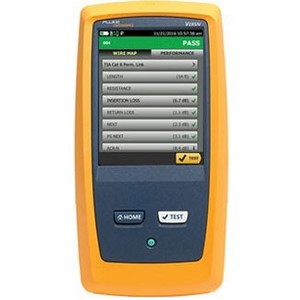 Fluke Networks VERSIV MAINFRAME for Rent
Product Highlights
Versiv enables users to accomplish more than ever before with a cable tester, by accelerating every step of the testing process LinkWare Live cloud service lets the Project Manager remotely set up the testers, monitor job progress and even location from any smart device
ProjX™ management system eases tasks from initial set-up of a job to system acceptance. It eliminates redundant steps, and ensures that all tests are completed correctly the first time, and every time
Taptive™ user interface puts advanced data analysis and easy set-up and operation at the fingertips of technicians of all skill levels LinkWare PC management software provides unmatched analysis of test results and professional test reports
The DSX reduces the time required to fix cabling faults with dedicated diagnostics, a simple test that locates the problem
Versiv™ modular design supports copper certification, fiber optic loss, OTDR testing and fiber end-face inspection
Unmatched speed for Cat 6A, 8, Class FA, I/II and all current standards
ProjX™ system manages job requirements and progress from set-up to systems acceptance, making sure all tests are completed correctly
Taptive™ user interface simplifies set-up, and eliminates errors
Analyze test results and create professional test reports using LinkWare™ management software
Why Rent from Transcat?
Rent from the Test and Measurement Equipment experts.
Transcat Rentals provide immediate, efficient and cost effective solutions for your temporary application or project needs. We offer a wide variety of inventory that comes calibrated ready to use. Our rental experts can help you choose the right equipment while offering flexible rental options, along with quality customer service.
Dedicated rental experts are ready to help you find the right piece of equipment and determine the best course for rental
Transcat provides consultative services on equipment selection, given your existing systems and operations
Ready to use calibrated equipment is provided quickly in a cost effective and flexible way
Same-day shipping is available in most cases
Watch>>>Transcat Company Overview
Transcat
Founded in 1964, Transcat has been supporting industry's test and measurement requirements for over 50 years. We serve customers within such areas as the pharmaceutical, industrial manufacturing, energy, and chemical process industries.
Transcat's Application & Resource Center
Let our metrology experts support you in more ways than just providing excellent calibration and consulting services. Please take some time to view and read our calibration resources. We continue to develop additional pieces that are pertinent to our customers.