Dimensional Calibration Services
Featured Product from Transcat, Inc.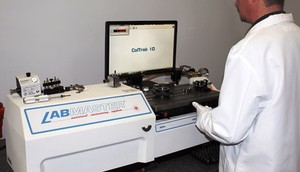 Over the past 50 years, Transcat has become the industry leader in the accredited calibration of your test and measurement instruments by developing a vast array of calibration capabilities. Transcat performs over 500,000 accredited calibrations each year, and we continue to expand our capabilities to best serve you.
Transcat's ISO 17025 accredited dimensional calibration services were designed to ensure that your hand tools and measuring instruments provide reliable, precise, traceable measurement results. From length measurement calibration of instruments such as micrometers, calipers, gages or tape measures, to high-tech optics-based scales and comparators, our industry leading dimensional instrument calibration capabilities are designed to reduce risk and inaccuracy in your measurements. Our dimensional capabilities also include surface hardness and roughness tester calibration for select instruments. Geometric Dimensional & Tolerancing (GD&T) such as custom overlays and gaging, and we provide custom dimensional analysis for first article, annual inspection, and capability study part inspection requirements.
Transcat offers Dimensional Calibration Services in many of our accredited calibration labs across North America. Additionally, our Dayton, OH and Rochester, NY laboratories include reference level capabilities for dimensional standards including end measuring rods, gage blocks, ring gages, and master setting plugs. For the most stringent commitment to measurement and uncertainty control, you can trust that the quality and metrology experts at Transcat to deliver industry-leading dimensional tool calibration services.