Motor drive analyzer
Featured Product from Transcat, Inc.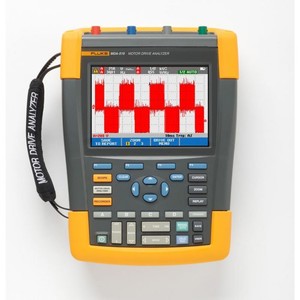 Motor drive analyzer 550, 4-channel color, pro, 0-1000VAC
Product Highlights
Measures inverter output voltage, DC bus voltage and ripple voltage, harmonics, unbalance
Three powerful test tools in one: Motor-drive analyzer, waveform analyzer and recording data logger all in one
Four input channels for voltage and current signals
Measure key motor-drive parameters including

Voltage, current, DC Bus voltage level and AC ripple, voltage and current unbalance and voltage modulation
Additionally, the MDA-550 measures: harmonics, and motor shaft voltage discharges and is supplied with accessories for those measurements
The MDA-550 also performs perform extended harmonics measurements to identify the effects of low and high order harmonics on your electrical power system.

Conduct guided measurements for motor-drive input, DC bus, drive output, motor input and shaft measurements (MDA-550) with graphical step-by-step voltage and current connection diagrams.
Use simplified measurement setup with preset measurement profiles to automatically trigger data collection based on the chosen test procedure.
Create reports quickly and easily that are perfect for docu¬menting troubleshooting and collaborative work with others.
Measure additional electrical parameters with full 500 MHz oscilloscope, meter and recording capability for complete range of electrical and electronic measurement on industrial systems.
Includes USB A, and USB mini B connectivity
Each Kit Includes
1x BP 291 li-ion battery pack
1x BC190 charger/power adapter
3x VPS 100:1 high voltage probes with alligator clips
1x VPS410-II-R 10:1 500MHz voltage probe
1x i400s ac current clamp
1x C1740 carrying case
1x 2 GB USB drive with manuals
FlukeView™ 2 software
1x SVS-500 shaft voltage set (3x brush, probe holder, two-piece extension rod and magnetic base)
additional 2x i400s ac current clamps
Watch>>>Transcat Company Overview
Transcat
Founded in 1964, Transcat has been supporting industry's test and measurement requirements for over 50 years. We serve customers within such areas as the pharmaceutical, industrial manufacturing, energy, and chemical process industries.
Transcat's Application & Resource Center
Let our metrology experts support you in more ways than just providing excellent calibration and consulting services. Please take some time to view and read our calibration resources. We continue to develop additional pieces that are pertinent to our customers.