Rent Electronic Test Equipment
Featured Product from Transcat, Inc.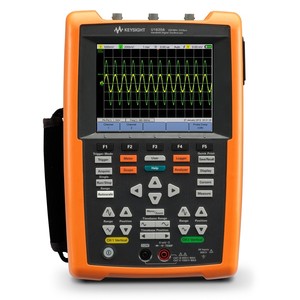 Fluke 190-502/S for Rent
Color ScopeMeter, 500 MHz 2-channels, DMM
Product Highlights
The Fluke ScopeMeter 190-502/S combine the highest safety ratings and rugged portability with the high performance of a bench oscilloscope. Designed for plant maintenance engineers and technicians, these tough ScopeMeter test tools go into harsh, dirty, and hazardous industrial conditions to test everything from micro-electronics to power electronics applications.
The ScopeMeter 190-502/S is the one test tool you will reach for to tackle just about any troubleshooting task. They include a multimeter, TrendPlot™ and ScopeRecord™ roll paperless recorder modes and hands free operation with Connect-and-View™ triggering, and much more:
Two electrically isolated inputs
CAT III 1000 V / CAT IV 600 V safety rated
500 MHz bandwidth model
5 GS/s
Deep memory: 10,000 samples per channel waveform capture so you can zoom in on the details
Dedicated 5000 Count digital multimeter
Connect-and-View continuous auto-trigger, single shot, pulse width, and video triggering
ScopeRecord roll mode, capture waveform sample data for up to 48 hours
TrendPlot, trend measurement readings for up to 22 days
Advanced automatic measurements, power (Vpwm, VA, W, PF) and time (mAs, V/s, w/s)
IP-51 rated for dust and drip proof to withstand harsh environments
Isolated USB ports for memory devices and PC connectivity
Li-Ion battery for extended operating timespan: up to 4 hours (BP290 included standard) or up to 8 hour with optional BP291
Charge spare battery using optional external battery charger (EBC290)
Easy-access battery door to make it easy to swap batteries
A handy slot to tether and lock down the oscilloscope while unattended using a standard Kensington® lock
Why Rent from Transcat?
Rent from the Test and Measurement Equipment experts.
Transcat Rentals provide immediate, efficient and cost effective solutions for your temporary application or project needs. We offer a wide variety of inventory that comes calibrated ready to use. Our rental experts can help you choose the right equipment while offering flexible rental options, along with quality customer service.
Dedicated rental experts are ready to help you find the right piece of equipment and determine the best course for rental
Transcat provides consultative services on equipment selection, given your existing systems and operations
Ready to use calibrated equipment is provided quickly in a cost effective and flexible way
Same-day shipping is available in most cases
Watch>>>Transcat Company Overview
Transcat
Founded in 1964, Transcat has been supporting industry's test and measurement requirements for over 50 years. We serve customers within such areas as the pharmaceutical, industrial manufacturing, energy, and chemical process industries.
Transcat's Application & Resource Center
Let our metrology experts support you in more ways than just providing excellent calibration and consulting services. Please take some time to view and read our calibration resources. We continue to develop additional pieces that are pertinent to our customers.