Thermal Insulation Tape
Product Announcement from Trelleborg Offshore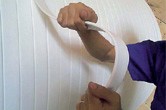 Trelleborg Emerson & Cuming - Syntactic Polypropylene Thermal Insulation (TI) Tape is a resistant deepwater insulation that is supplied as a continually extruded profile in various cross sections. Manufactured from Glass Syntactic Polypropylene the tape provides efficient insulation whilst being robust enough to be incorporated within flexible pipe solutions.
TI Tape is predominantly used in the manufacture of Flexible Pipes and Risers where the operational temperatures are up to 90 degrees C and water depths are up to 2000 meters (7000 feet). Tape is typically purchased by flexible pipe manufacturers and is spirally wound into the pipe as part of its construction.
The tape form enables easy application to pipes by a simple winding process and depending on the required insulation levels can be applied in single or multiple layers.
The group has over 30 years experience in the design and manufacture of syntactic materials and has the largest manufacturing capacity for such materials in the world.
TI Tape is generally supplied in various cross sections of around 5mm and 50mm wide but Trelleborg Emerson & Cuming has supplied thick thermal insulation tape as wide as 69mm. The extruded tape is supplied on spools up to 2Te each and Trelleborg Emerson & Cuming, Inc. has a capacity to produce approximately 2500 Te per annum.
---