Spring Products & Custom Capabilities
Featured Product from Trelleborg Sealing Solutions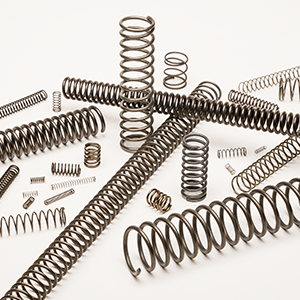 Trelleborg Sealing Solutions offers a comprehensive portfolio of spring products, custom-designed to meet customers' demanding requirements. Our portfolio includes a wide range of coiled, stamped and wire-formed spring types produced in a variety of materials and finishes, many of which meet international standards.
Through advanced delivery programs and value-added handling and packaging services, we assist our customers in simplifying internal processes, improving part availability and reducing costs. Our problem-solving solutions are featured in virtually every application within the industrial, aerospace and automotive markets. We provide a one-stop-shop solution for your sealing and spring needs.
Spring Manufacturing Capabilities:
Coiling, stamping, wire forming
Any configuration or volume
Round or shaped wire
Stamping presses up to 400 tons
Secondary processes and finishes
Cleanroom services
Spring Engineering Expertise:
Shoulder-to-shoulder engineering; enhancing products with Trelleborg's design expertise
Present at all stages of development, from prototype to bringing equipment to market
Spring Materials that Meet International Standards:
Copper and alloys
Steel, carbon and all grades of stainless
Titanium
Music wire
Elgiloy®, Hastelloy®, Inconel®
Other specialty materials
Explore our spring portfolio below, then visit our website to learn more or contact us to discuss custom spring solutions for your application.
Trelleborg Sealing Solutions Spring Product Portfolio
Torsion Springs
Used to apply torque or store rotational energy and are typically found in single coil or double coil forms.
Applications:
Ratchets
Swing-down tailgates
Garage doors
Window shades
Counterbalance mechanisms
Coupling between concentric shafts
Door closures
Compression Springs
The most common spring type specified in the marketplace today and one of most efficient energy storage devices available. The usual form of compression spring is straight cylindrical from round wire. Other forms include conical, hourglass, barrel, square, ovate, rectangular or reduced ends, produced from round or flat wire.
Applications:
Electrical switches
Measuring devices
Pumps
Valves
Prosthetics
Brake systems
Extension Springs
Designed to store energy and exert a required pull force when extended to a specific length, extension springs require a method of attachment as part of an assembly. Customized end configurations and orientations such as hooks, loops, and threaded inserts are a few of the options available.
Applications:
Automotive interiors
Garage doors
Carburetors
Washing machines
Farm machinery
Constant Force Springs
These springs exert a constant force over the full range of motion and are produced as either motor type (drum take up) or extension type (strip end connection).
Applications:
Feeding systems
Raise/lower mechanisms
Surgical instruments
Bed lift mechanisms
MRI and X-ray machines
Industrial staplers/guns
HVAC fire dampers
Retractable reels
Power Springs
Power springs store and release large amounts of rotational energy in the form of torque.
Applications:
Clocks
Cameras
Timers
Retractor mechanisms for electrical cords
Starter pull cords
Seat belts
Snap Rings
Internal and external snap rings are offered to retain or locate components on shafts or in bores.
Applications:
Actuators
Bearings
Gearboxes
Transmissions
Electric motors
Belleville Washer & Disc Springs
A Belleville washer is a type of non-flat washer with a slight conical shape or curvature, which gives the washer a spring characteristic.
Applications:
Actuation devices
Bearing assemblies
Clutch and brake mechanisms
Transmissions
Oil and gas drilling equipment
Wave Springs
Wave springs are often specified in place of conventional round wire compression springs. Generally, wave springs occupy 30-50% of the compressed height space of comparable round wire springs, offering more deflection with the same load specifications.
Applications:
Valves
Rotary unions
Electrical connectors
Drug delivery devices
Spring Washers
Spring washers are an application-specific internally or externally slotted disc ring.
Applications:
Couplings
Gearboxes
Transmissions
Elevators
Safety brakes/valves
Machine tool clamping
Vibration isolation
Spring Clips & Pins
Trelleborg Sealing Solutions offers a selection of common locking pins and custom designed stamped spring shapes.
Applications:
Tractor attachments
Brake pads
Sports bikes
Lawn and garden equipment
Finger & Coiled Springs
These are unique spring designs with loading across the major length. Many designs are welded in rings with deflection occurring by compressing the spring radially between two portions of hardware.
Applications:
Mechanical locking
Latching
Connecting
Work holding and centering devices
Electrical contacts
Stamped & Wire Form Parts
These are custom designed stamped or wire-form components which may perform a spring function.
Applications:
Appliances
Electronic components
Lighting
Latches
Automotive and aerospace connectors
Visit our website to learn more or contact us to discuss custom spring solutions for your application.